Resolving centuries of oppression cannot be done alone. And no one can stand idly by—neutrality and silence are complicit. Here are steps we are taking with our hearts, our minds, our wallets, our voices, and our votes to create a more equitable world.
Voice and Action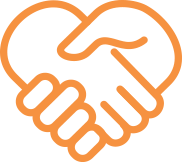 Empowering Changemakers
From fairly priced checking accounts for individuals and families that help you stay on track, to business and nonprofit financial tools that assist you in growing your organization, our lending and deposit products are designed for changemakers working toward creating a new economy, where we all thrive.