Nov 05, 2018 | Share Your Beautiful
Farm-to-Organic-Food-Truck Entrepreneurs, Beneficial State Banking Heroes
The founders of Green Truck knew people living in often-overlooked Los Angeles communities want fresh, organic food, they just didn't have a reliable way to get it. So Green Truck put organic meals on wheels and became one of the largest food truck operations in and around L.A.
"It's everyone's right to have clean food."
That's the driving ethos behind Green Truck, launched in 2006 to serve locally sourced, healthy organic food in Los Angeles. The founders chose to start as a food truck partly because it was a vehicle to bring organic food to neighborhoods away from more affluent areas, like Malibu and Westwood, to places where residents didn't have many, or any, organic food options.
"People wanted organic food. It was just about accessibility," says Kam Miceli.
Green Truck's owners believe that what people put into their bodies matters—so they only use Certified Organic ingredients, and look for local producers.
"Food is thy medicine. That's why we developed the healthy food trucks," says Mitchell Collier.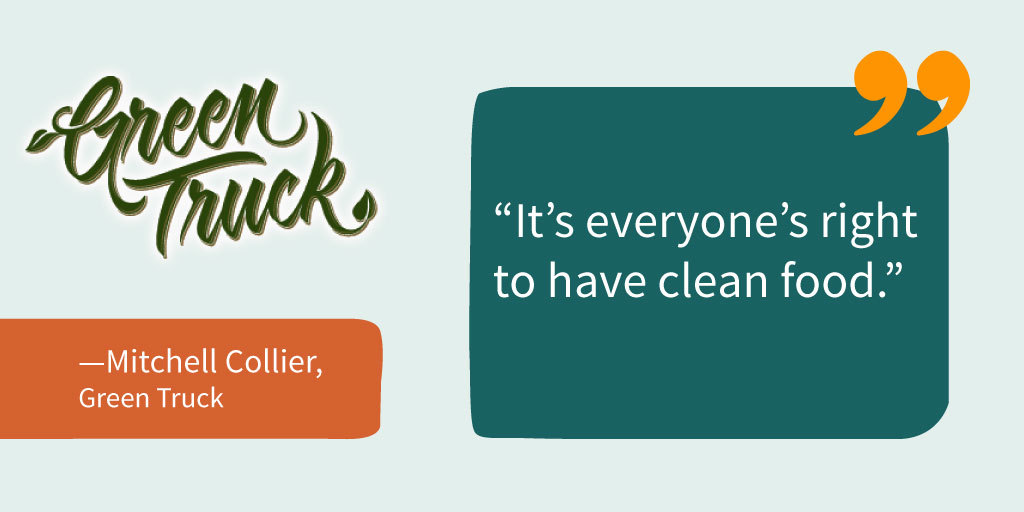 Healthy Food Foundation of a Healthy Business
Green Truck's commitment to healthfulness doesn't stop at its customers—the company knows a healthy environment is essential to healthy living. After it's been used to cook customers' meals, Green Truck's vegetable oil is then used to power its food trucks. Green Truck's commissary kitchen is run on solar power. All packaging and utensils are either recyclable or compostable. And, the materials the company composts at its truck stops are delivered to some of the farms that grow its ingredients, where it's used to fertilize and grow more food.
The owners believe this sort of holistic outlook is the way business is meant to be done. "There's an entire generation of entrepreneurs who are making a difference right now, and will continue to do so," Collier says.
The company's natural growth has grown from an initial seed loan from Beneficial State Bank. Without this first cash input, the company wouldn't have been able to scale to where it is today.
"The biggest thing when you start a small business is cash flow. Beneficial State Bank gave us an opportunity when other banks wouldn't. And it's made the difference in our business—we're the largest food truck company in Los Angeles right now," Miceli says.
---