Feb 23, 2022 |
Update on Branch and Service Hours
Our priority is to meet our customers' financial needs while keeping them, our staff, and our community safe and healthy. Please consider the following banking options:
Visiting a Branch
Our dedicated team members are working hard to continue to serve you in person. Before heading to a branch, we recommend that you check our website for our most current hours and services available in your area. We use this area to post notices about any changes in hours.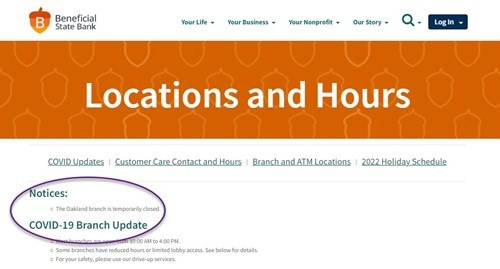 Digital Banking
Online Banking and our Mobile Banking apps are secure and convenient ways to manage your accounts 24 hours a day, seven days a week. We also offer video banking on your desktop, tablet, and mobile device so you can bank from your home, office, or on the go. Learn more or contact us for support.
Sign Up for Emails
If you're a customer and would like to receive notices by email, please contact us to update your information and opt-in to emails.
---